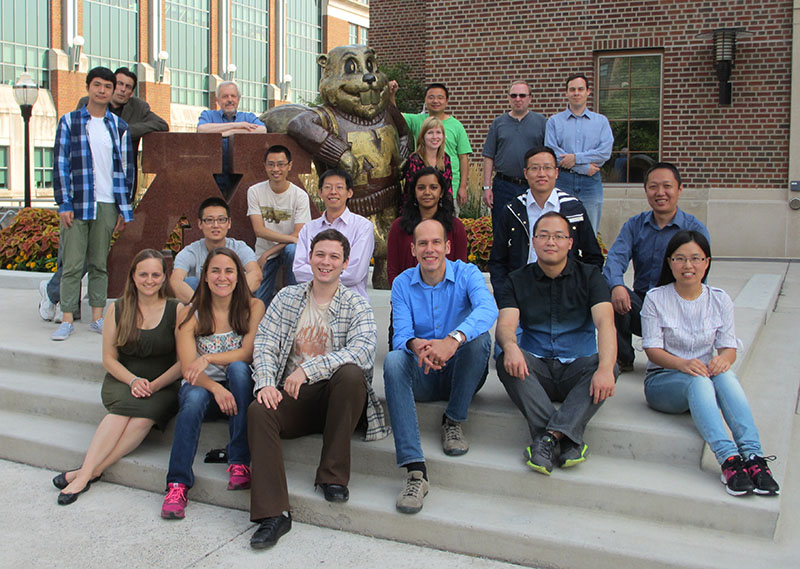 August 2015

Back Row: Junwei Bao, Max Makeev, Don Truhlar, Shaohong Li, Yuliya Paukku, Wei Lin, Steven Mielke, Zoltan Varga
Second Row: Haoyu Yu, Wei-Guang Liu, Pragya Verma, Xiao He, Guoliang Song
First Row: Laura Fernandez, Kelsey Parker, Chad Hoyer, Rubén Meana Pañeda, Kaining Duanmu, Xiaoyu Li
Missing: Shuping Huang, Luke Fiedler, Osanna Tishchenko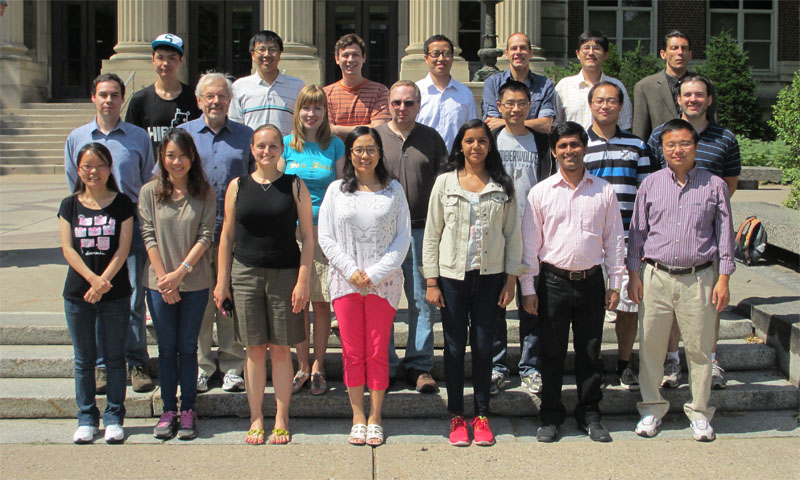 August 2014

Third Row: Junwei Bao, Bo Wang, Chad Hoyer, Xiao He, Rubén Meana Pañeda, He Ma, Max Makeev
Second Row: Zoltan Varga, Don Truhlar, Yuliya Paukku, Steven Mielke, Shaohong Li, Kaining Duanmu, Luke Fiedler
First Row: Wenjing Zhang, Pattrawan Sripa, Laura Fernandez, Xuefei Xu, Pragya Verma, Prasenjit Seal, Wei Lin
Missing: Shuping Huang, Osanna Tishchenko, Haoyu Yu, Jingjing Zheng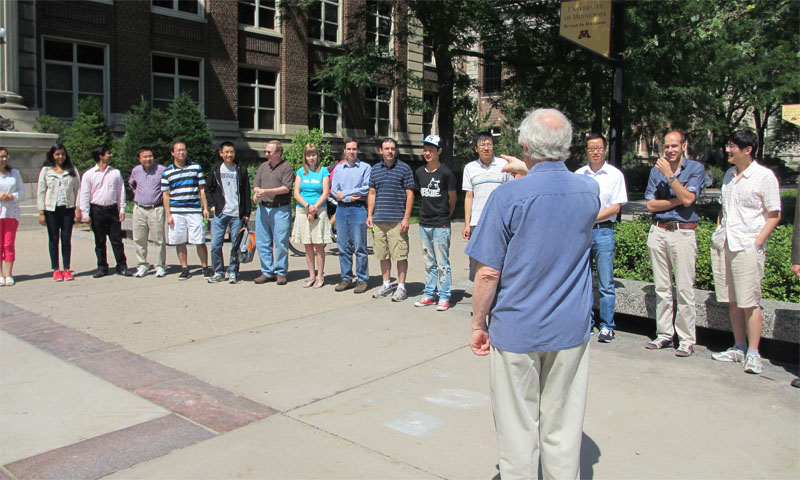 A candid picture shows a great representation of how our group functions (August 2014)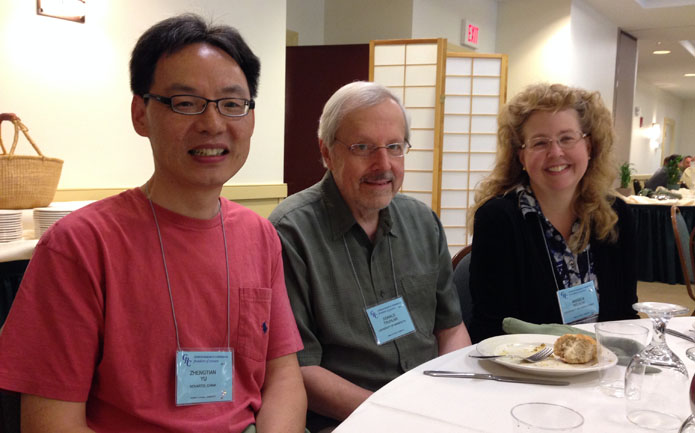 Zhengtian Yu , Don Truhlar, and Angela Wilson at the Gordon Conference on Compuational Chemistry,West Dover,
Vermont, July 23, 2014. Zhengtian Yu (Associate Director, Head of CADD & Chemoinformatics, China Novartis
Institutes for BioMedical Research Co., Ltd.) and Angela Wilson (Regents Professor of Chemistry and Co-Director
of the Center for Advanced Scientific Computing and Modeling, University of North Texas) are University of Minnesotaa
graduate alumni of the research group of Professor Jan Almlöf.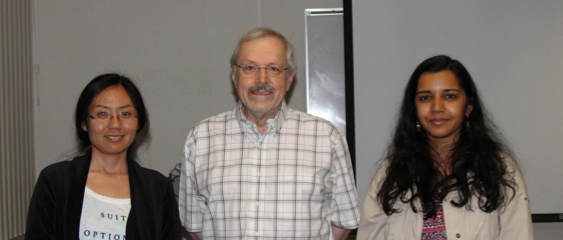 Xuefei Xu, Don Truhlar, and Pragya Verma, coauthors of Don Truhlar's 1000th journal article,
at the surprise party, Smith Hall, July 1st, 2013.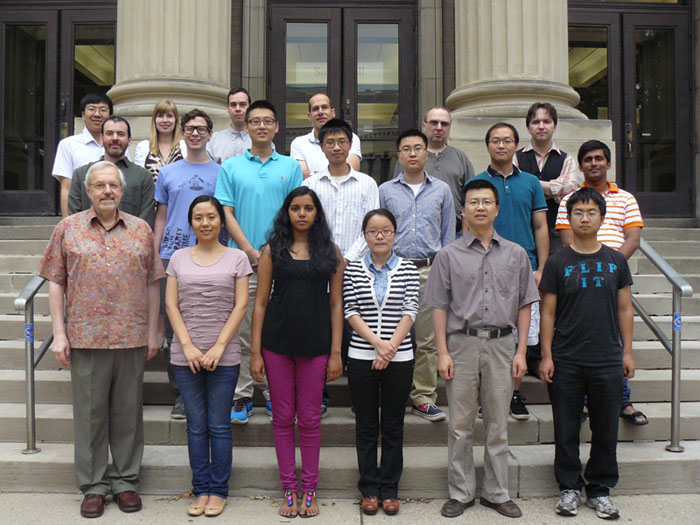 July 2013

Third Row: Bo Wang, Yulia Paukku, Zoltan Varga,Rubén Meana Pañeda,Steven Mielke, Alek Marenich
Second Row: Luke Fiedler, Chad Hoyer, Haoyu Yu, Shaohong Li, Andy Luo,Kaining Duanmu,Prasenjit Seal
First Row: Don Truhlar, Xuefei Xu, Pragya Verma, Wenjing Zhang, Jingjing Zheng, Ke Yang
Missing: Osanna Tishchenko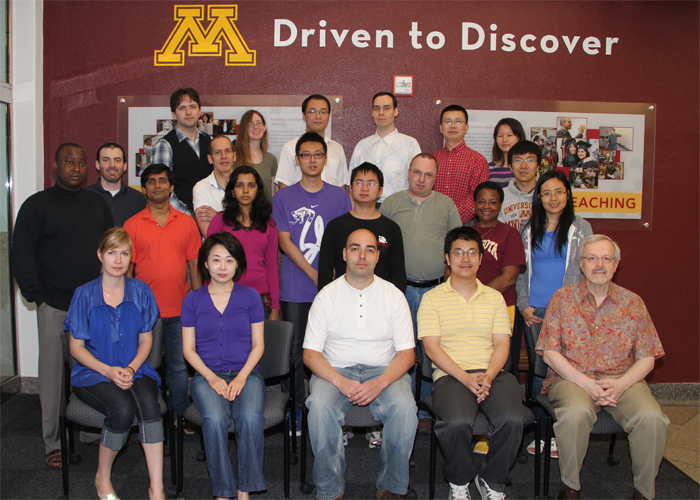 June 2012

Fourth Row: Alek Marenich, Hannah Leverentz, Kaining Duanmu, Zoltan Varga, Jingjing Zheng, Helena Qi
Third Row: Luke Fiedler, Rubén Meana Pañeda, Haoyu Yu, Steven Mielke, Bo Wang
Second Row: Gbenga Oyedepo,Prasenjit Seal, Pragya Verma, Ke Yang, Flurnia Hadley-Davis, Xuefei Xu
First Row: Yulia Paukku, Miho Isegawa, Boris Averkiev, Tao Yu, Don Truhlar
Missing: Andy Luo, Ewa Papajak, Osanna Tishchenko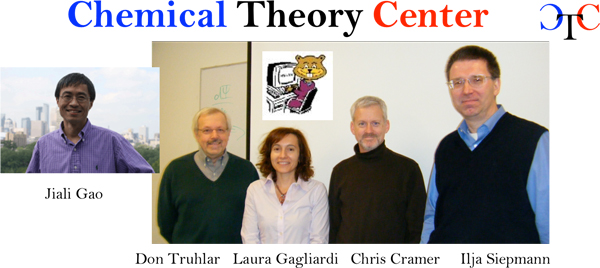 2011-2012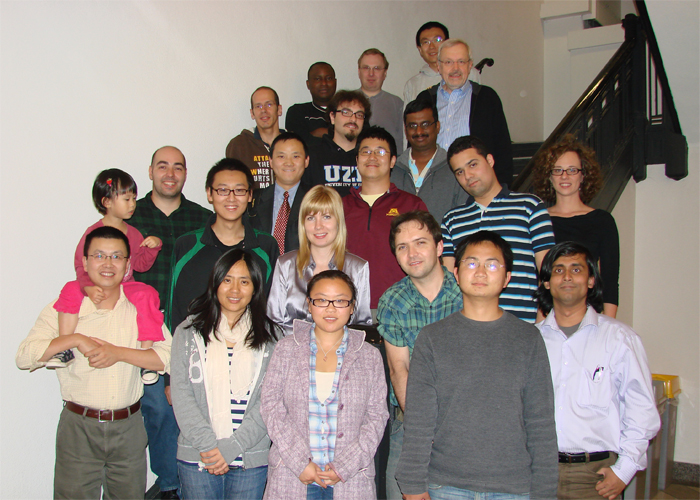 October 2011
Picture taken at a party for Yan's visiting the group
Fifth to last Row (left to right): Gbenga Oyedepo, Steven Mielke, Bo Wang, Don Truhlar
Fourth Row: Rubén Meana Pañeda, Roberto Peverati, Santhanamoorthi Nachimuthu
Third Row: Yan Zhao, Tao Yu, Raphael Florentino Ribeiro, Ewa Papajak
Second Row: Boris Averkiev, Haoyu Yu, Yulia Paukku, Alek Marenich, Prasenjit Seal
First Row: Jingjing Zheng (Valerie Zheng), Xuefei Xu, Run Li, Ke Yang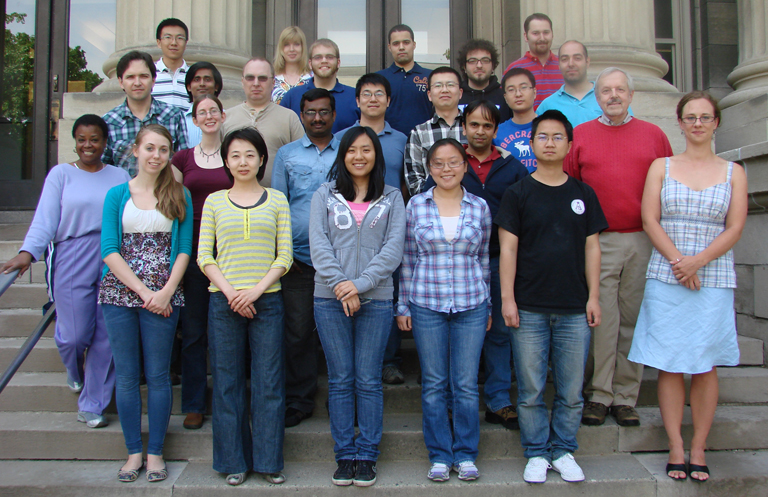 June 2011

Fifth Row: Bo Wang, Yulia Paukku, Raphael Florentino Ribeiro, John Alecu
Fourth Row: Prasenjit Seal, Jeremy Tempkin, Roberto Peverati, Boris Averkiev
Third Row: Alek Marenich, Steven Mielke, Tao Yu, Jingjing Zheng, Andy Luo
Second Row: Flurnia Hadley-Davis, Hannah Leverentz, Santhanamoorthi Nachimuthu, Anant Kulkarni, Donald Truhlar
First Row: Gillian Shaw, Miho Isegawa, Xuefei Xu, Run Li, Ke Yang, Ewa Papajak
Missing: Luke Fiedler, Sara Kragt, Osanna Tishchenko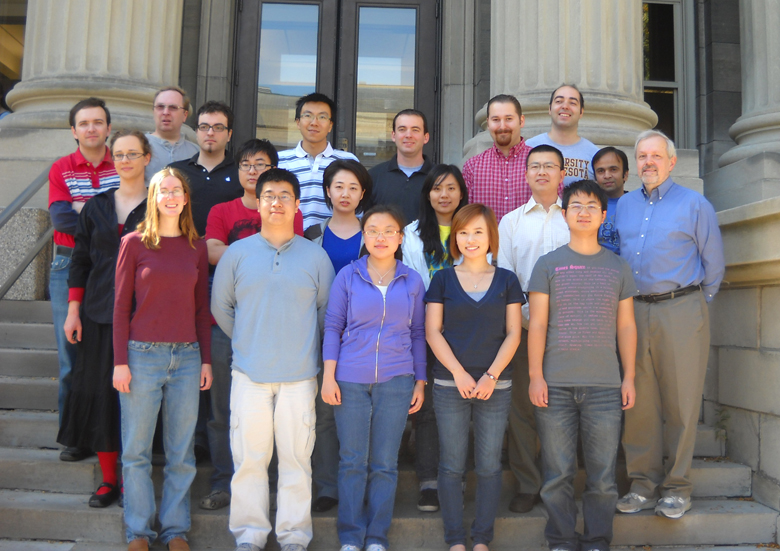 October 2010

Third Row: Alek Marenich, Steven Mielke, Roberto Peverati, Bo Wang, Luke Fiedler,John Alecu, Boris Averkiev
Second Row: Ewa Papajak, Andy Luo, Miho Isegawa, Xuefei Xu, Jingjing Zheng, Anant Kulkarni, Donald Truhlar
First Row: Hannah Leverentz, Tao Yu, Run Li, Viki Ding, Ke Yang
Missing: Hadi Dinpajooh, Flurnia Hadley-Davis, Sara Kragt, Osanna Tishchenko,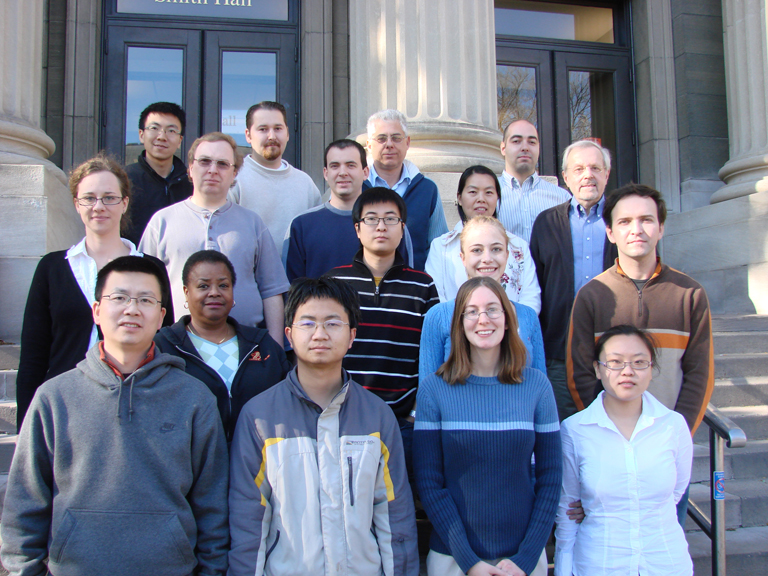 November 2009

Fifth Row: Bo Wang, John Alecu, Orlando Roberto-Neto, Boris Averkiev
Fourth Row: Steven L. Mielke, Luke Fiedler, Ruifang Li, Donald Truhlar
Third Row: Ewa Papajak, Andy Luo
Second Row: Flurnia Hadley-Davis,Sarah Kragt, Alek Marenich
First Row: Jingjing Zheng, Ke Yang, Hannah Leverentz, Run Li
Missing: Osanna Tishchenko, Hadi Dinpajooh, Brian White

June 2008

Third Row: Luke Fiedler, Bo Wang, Yongho Kim
Second Row: Masahiro Higashi,David Bonhommeau, Rosendo Valero, Ewa Papajak, Donald Truhlar
First Row: Yan Zhao, Jingjing Zheng, Hannah Leverentz, Meiyu Zhao, Alek Marenich, Rubén Meana Pañeda
Missing: Steven L. Mielke, Jonathan Smith, Osanna Tishchenko, Brian White, Wangshen Xie

July 2007

Third Row: Robert Molt, Masahiro Higashi, Andreas Heyden, Adam Chamberlin, Brian White, Ryan Olson
Second Row: Jingjing Zheng, Jonathan Young, Mark Iron, Hannah Leverentz, Anastassia Sorkin, Alek Marenich
First Row: Donald Truhlar, Rosendo Valero, Yan Zhao, David Bonhommeau, Erin Dahlke, Ewa Papajak
Missing: Natalie Elmasry, Jonathan Smith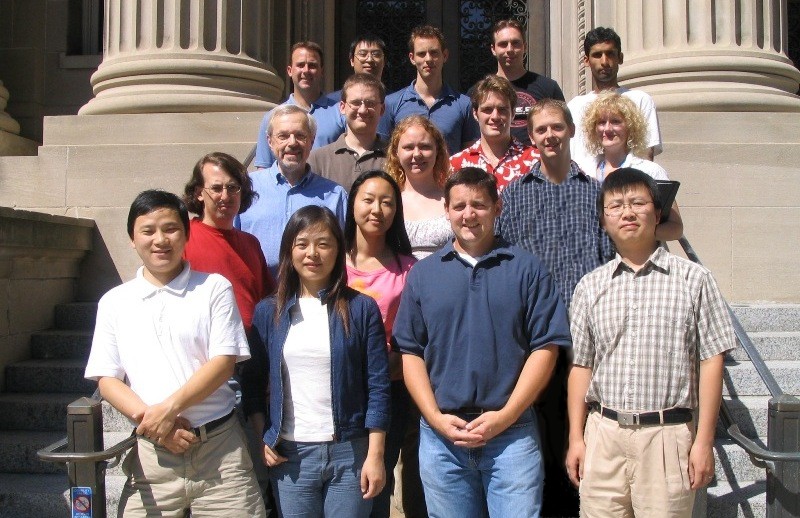 August 2006

Sixth Row: Zhenhua Li, Andreas Heyden
Fifth Row: Casey Kelly, Neil Young, Divesh Bhatt
Fourth Row: Benjamin Lynch, Michael Collins, Elizabeth Amin
Third Row: Donald Truhlar, Erin Dahlke, Benjamin Ellingson
Second Row: Mark Iron, Hyunju Lee
First Row: Yan Zhao, Yuan Zhang, Nate Schultz, Jingjing Zheng
Missing: Adam Chamberlin, Natalie Elmasry, Michelle Orthmeyer, Pablo Jaque, Jonathan Smith, Rosendo Valero, Wangshen Xie, Brian White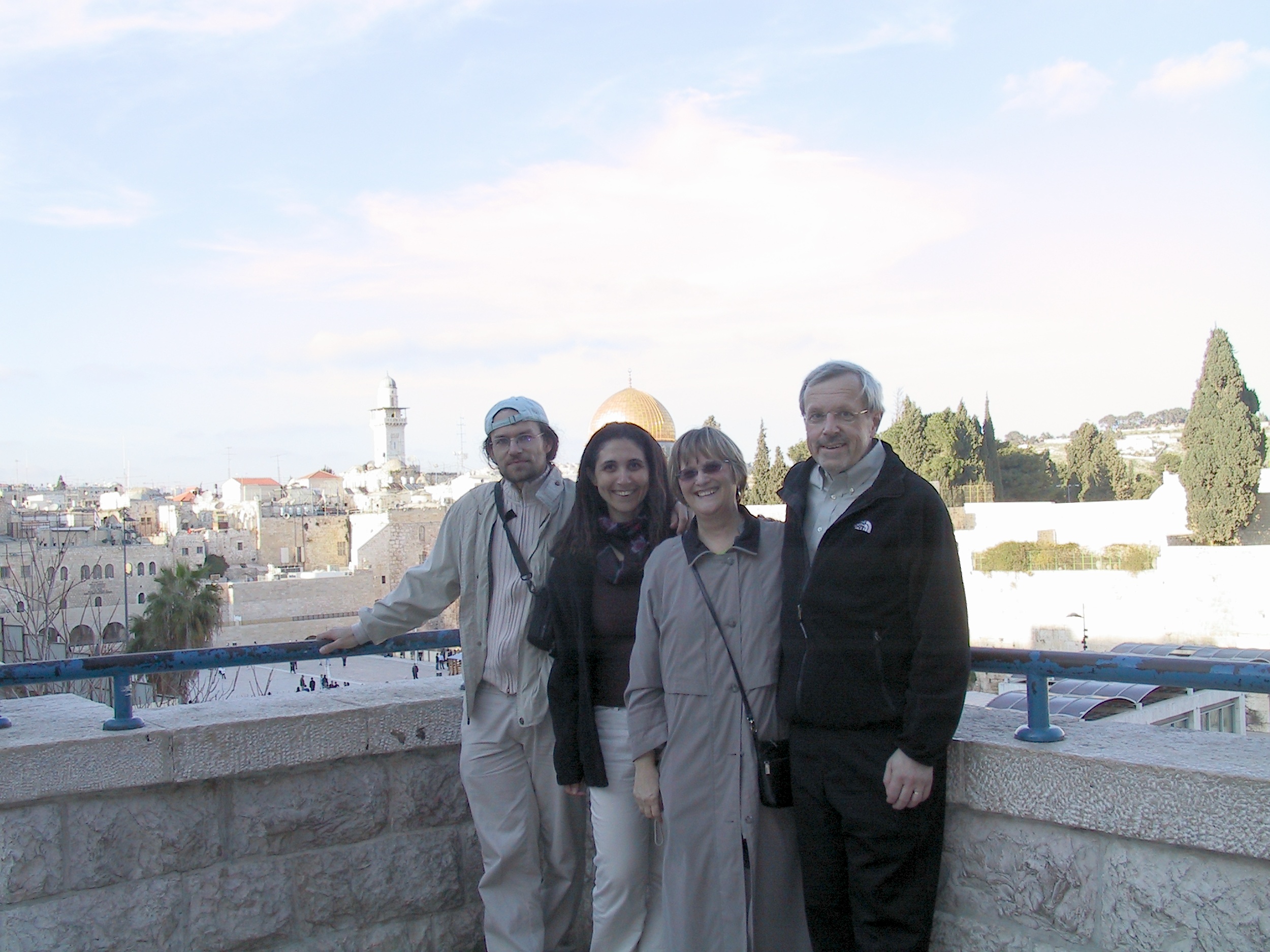 March 2006

Left to right: Marek Strajbl, Avital Shurki, Jane Truhlar, and Don Truhlar in Jerusalem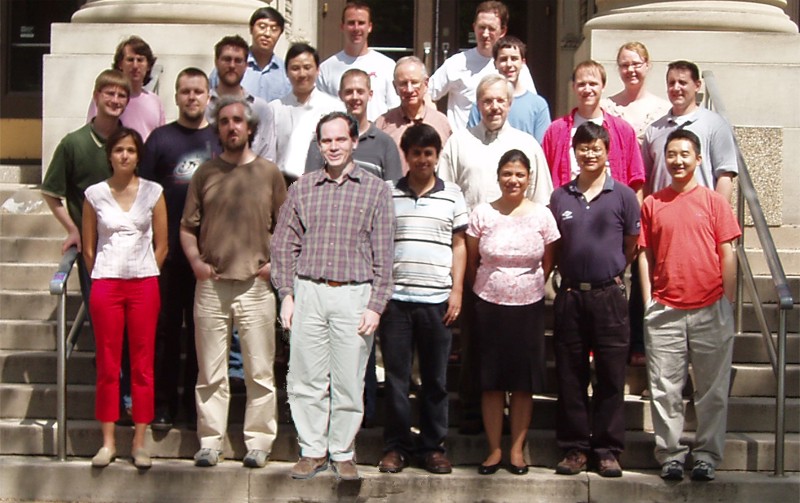 June 2005

Fourth Row: Zhenhua Li, Casey Kelly, Adam Chamberlin
Third Row: Mark Iron, Ahren Jasper, Yan Zhao, Jerry Mohrig, Ian Haken, Erin Dahlke
Second Row: Dan Theis, Michal Rostkowski, Ben Ellingson, Don Truhlar, T.J. Preston, Nate Schultz
First Row: Núria González-García, Rosendo Valero, Clayton Spencer, Arindam Chakraborty, Shikha Nangia, Hai Lin, Jingzhi Pu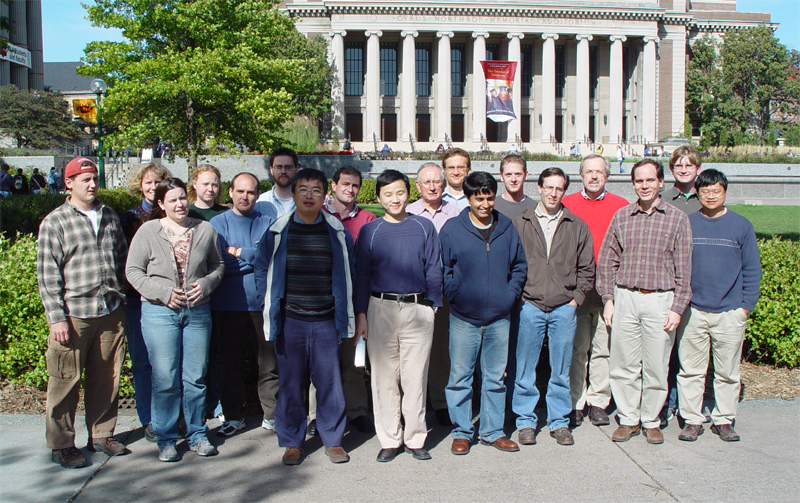 Oct. 5, 2004

Left to right: Nate Schultz, Elizabeth Ambrose Amin, Vanessa Audette Lynch, Erin Dahlke, Jose Javier Ruiz Perna, Ahren Jasper, Chaoyuan Zhu, Antonio Fernandez-Ramos, Yan Zhao, Jerry Mohrig, Ben Lynch, Arindam Chakraborty, Ben Ellingson, Jason Thompson, Don Truhlar, Clayton Spencer, Dan Theis, Hai Lin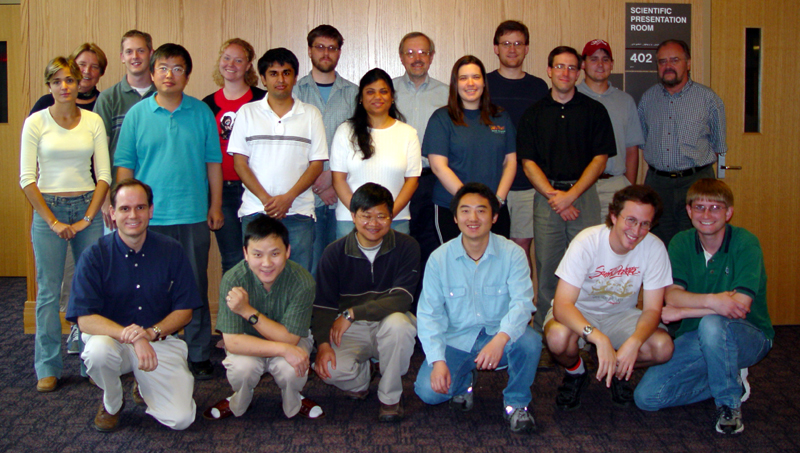 Aug 16, 2004

Back Row: Grazyna Staszewska, Ben Ellingson, Erin Dahlke, Ahren Jasper, Don Truhlar, Ben Lynch, Nate Schultz, Przemyslaw Staszewski
Middle Row: Núria González-García, Chaoyuan Zhu, Arindam Chakraborty, Shikha Nangia, Vanessa Audette Lynch, Jason Thompson
Front Row: Clayton Spencer, Yan Zhao, Hai Lin, Jingzhi Pu, Adam Chamberlin, Dan Theis


Current and Past Pictures